Ubibot External CO2 Probe
CO2 concentration measuring & monitoring 24/7 with real-time alerts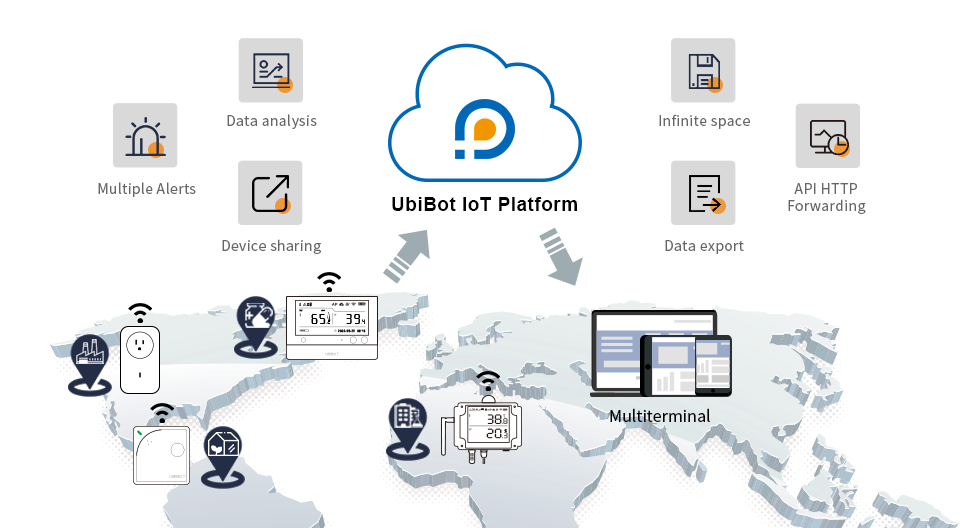 UbiBot CO2 Probe is an industrial-grade probe that can measure CO2 concentration levels in a range of 0-10000 ppm, with accuracy of ± (30 ppm + 3%). It features super stability and anti-interference ability, strong product protection performance, and first-grade lightning protection. This probe can be used in the agricultural industry and in places like laboratories, pharmacies, workshops, warehouses, museums, offices, and wherever carbon dioxide concentration levels need to be monitored.
By integrating UbiBot CO2 Probe with GS1 and SP1 device, you don't need to watch the readings all the time. All the data collected by the probe over time can be stored on our cloud platform and accessed from the UbiBot App and the Web Console. The custom alerts will notify you of any sudden change or extreme conditions via App notifications, emails, SMS text messages, voice call, and HTTP. Our cloud platform works with IFTTT (if this then that), which supports automation with your other electronic appliances, such as fans, ventilation system, etc.
The CO2 data, as well as other data on our system, comes with free data export, long term storage, and data forwarding options.
If you have strict requirements for measurement accuracy, and you want to achieve the highest accuracy, you will need to use UbiBot Probe Calibration Tool with USB-RS485 Adapter o periodically calibrate the probe.
Features:
CO2 concentration monitoring
RS485 ModBus Protocol makes sure data transmission is accurate and stable
Can be calibrated with UbiBot Probe Calibration Tool
Measuring Range: 0~10000 ppm
Accuracy: CO2: (30 ppm + 3%) Accuracy (max) 0.1 ppm
Working with GS1 series and SP1
Note:
- UbiBot CO2 Probe works with UbiBot GS1 and SP1 series, doesn't work with WS1 PRO series.
- Only one UbiBot CO2 Probe can be connected to a UbiBot device at a time.
- This product is designed to work exclusively with UbiBot devices.
| | |
| --- | --- |
| Cable Length | 300cm |
| Connector | Audio plug |
| Power Supply Range | DC 5 V to 12 V |
| Monitoring Range | 0~10000ppm |
| Accuracy | ± (30ppm + 3%) |
| Resolution | 0.1ppm |
| Size of the Probe | 65*46*29mm |
| Baud Rate | 1200 bit/s,2400 bit/s, 4800 bit/s, 9600 bit/s, 19200 bit/s(optional) |
| Current | 20mA |
| Communication Protocol | MODBUS RTU |
| Output Interface | RS485 |
| Communication Address | 0xC7 |
---
*Free Express Shipping on orders over $89.99 to USA, Canada and UK. For other countries, Free Worldwide Shipping applies on orders over $250. Delivery times and costs will be automatically calculated after you enter your shipping address during checkout. Orders are shipped from our closest international warehouse.
The price you pay doesn't include import duties, taxes or charges as these vary widely between countries.You are responsible for paying all such charges immediately upon the receipt of the item.
Contact our local distributors for next-day delivery. Service available for the following countries:
You can enjoy the fastest delivery service, as well as professional technical, local sales, and after-sales support.

















---
Related to this product